Skincare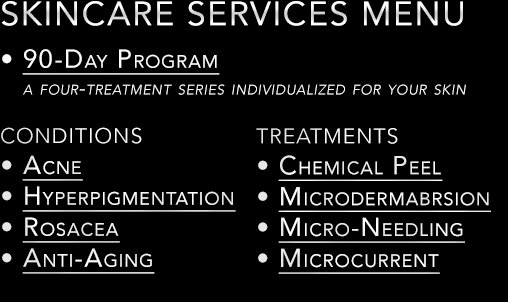 Great makeup begins with an understanding of the skin. Nicole is a New York State licensed Esthetician Skin Care Practitioner. Through her education, she has developed and nurtured a passion for the world of aesthetics, with proficiency in advanced anti-aging, Hyperpigmentation and acne treatments and a focus on Microdermabrasion, chemical peels and Microcurrent. Nicole is committed to using only the finest equipment and products in the skincare industry. 
Services

90 Day Program
A comprehensive program desig
ned gradually and safely improve your skin over time. The program consist of 3 corrective facials, 3 peels, 3 Post peel treatments within 3 months. The 90 Day Program has 4 different treatment series that specifically target your specific skin concerns. (Each program includes home maintenance products)
Hyperpigmentation
There are so many causes for hyperpigmentation and uneven skin tone. There is systemic pigmentation which is damage at the cellular level. This is very difficult to treat on a superficial level and even the most aggressive medical treatments will not be able to eliminate the problem. Then there is surface pigmentation which is generally more successfully treated. However, much can be done to brighten and lighten the skin and protect from further damage.
Acne
We understand how emotionally and spiritually crippling—not to mention painful—acne can be. With countless products and opinions on the market, it is understandable that you may become confused and not know where to turn to improve your skin's health. Whether you are experiencing acne for the first time or you have been suffering for many years, we can help you achieve clearer skin through proper home care and monthly professional treatments. With realistic expectations, your acne can be controlled to reveal your beautiful skin.
Anti-Aging
We are all beautiful, but unhealthy skin can veil our natural good looks. Throughout life we are confronted with various skin issues and conditions that are eminently treatable. We like the term "premature age prevention" instead of anti-aging because it is a proactive term that involves a process to achieve gorgeous, healthy skin.
Rosacea
Rosacea is a common, yet often misunderstood, inflammatory skin disease that may cause facial redness, sensitive skin, burning, stinging, swelling, papules, broken red capillary veins, red gritty eyes, and in more advanced cases, a disfigured bulbous nose. Often misdiagnosed as adult acne, allergy or eczema, Rosacea if left untreated, tends to worsen over time. A susceptibility to Rosacea, called pre-Rosacea, can be detected in teens or early 20's. It is even reported in children;  however, men and women of all ages can be affected, with over 45 million estimated suffers of Rosacea worldwide.
---

Chemical Peel
A chemical peel is a technique which involves the application of a variety of chemical solutions to remove the damaged outer layers of dead skin cells from the skin's surface. It is extremely beneficial for many skin conditions such as hyperpigmentation, rosacea, acne, sun damage, and photo aging. By removing the build-up of dead skin cells and stimulating the regenerative process, you will notice marked improvements in the formation of wrinkles and fine lines, texture and tone of the skin, hydration, reduced pore size, clearing of blemishes and more balanced oil production and an overall healthier skin appearance.
Microdermabrasion
Microdermabrasion is a state of the art treatment especially developed to treat fine lines, wrinkles, hyperpigmentation, sun damage, blemished skin, as well as stimulate collagen growth and smooth rough skin. The results are immediately visible after the 1st treatment, making way for smooth, softer skin and a refreshed complexion. Best results are achieved after a series of results.
Micro-needling
Dermapen uses multiple needles that vertically pierce the skin. The automatic vibrating function of the Dermapen increases the effectiveness of treatment by increasing absorption of products. Stimulating the body's own collagen and elastin production to thicken, tighten, lift and rejuvenate the skin; helping reverse the signs of aging by reducing the appearance of fine lines and wrinkles, skin laxity or crepey skin, and minimizing pore size.
Micro-needling is a great treatment for scar revision; robust nature of the automated micro-needles penetrate difficult scar tissue, modifying the scar, improving the texture, size, and appearance of the scar. A series of treatments can dramatically improve acne scarring.
Microcurrent
Microcurrent, which is often called the "non-surgical facelift." As the skin heals, skin tones and elasticity improves, the appearance of wrinkles is reduced. Optimal results achieved through a series of treatments. Because of the continuous healing and quick radiance factor this is a must for the bride-to-be.
---